Alan Thomson's All Stars play Backstage at the Green Hotel Kinross on NYE 31st December and 1st January 2020 for Mundell Music
Looking forward to playing  "Backstage at The Green" 31ST December 2019 and the "Hangover Cure!" 1st January 2020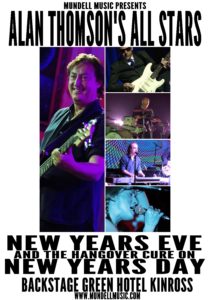 Hope you can join us again for an evening of great music played by some of the best musicians and singers I've ever worked with…….
From California, on Keyboards, guitars and Lead Vocals, former Badfinger member and John Jorgenson Electric Band colleague ……JEFF ROSS.
Also on Lead Vocals, my "go to"singer for every style from "Led Zeppelin" to "Aretha Franklin"
the one and ONLY………..SUZY CHUNK.
On GUITAR, the exceptional …..AL BROWN
Al is without doubt one of the finest and most tasteful guitarists around today and is making a name for himself at Blues Festivals both in UK and across Europe. If you're a guitar lover, don't miss this opportunity to hear Al Brown play.
On DRUMS, the fantastic….. JIM DRUMMOND.
I've worked with Jim since 1980 with  rock band Strangeways, John Martyn, Frank O'Hagan and many more. Jim is a naturally gifted musician, across multiple genres from, Big Band Jazz to Country , Blues to Metal, Funk to Fusion. He is in the driving seat behind the band keeping us grooving.
On BASS…ALAN THOMSON
Alan is currently the Bass Player with  the "Martin Barre Band" (Jethro Tull)
 He is best known for his fretless bass playing with the late great "John Martyn"" also with Jacqui McShee's Pentangle, Elliott Morris, Julia Fordham, John Jorgenson Electric Band, Carl Verheyen Blues project and many more…..

Alan Thomson (John Martyn & John Jorgenson) has amassed an awesome Band who are a collection of who's who. Together they form a fantastic party Band playing classic Rock & Roll covers guaranteed to bring the house down. Songs that include, 'I can't stand the rain', Stevie Wonders 'I Wish', George Harrison's 'While my Guitar gently weeps', Rainbow's 'All Night Long' and Robert Palmer's 'Addicted To Love' amongst others. Together with Alan there is Jeff Ross (Ex Badfinger), Jim Drummond on Drums (Barbara Dickson, Donnie Munro & Strangeways), Al Brown on Guitar  and Suzi Chunk on Vocals.