Climax Blues Band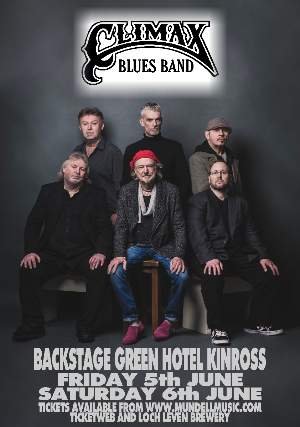 The Climax Blues Band of today carries the same standard of quality as it did when the band formed back in the late 60s and achieved such great success and recognition through the 70s and 80s, huge selling albums like FM / Live and Gold Plated, the 1976 hit single Couldn't Get It Right (from Gold Plated) and I Love You in 1981, the reputation carrying right through until the tragic death of founder member Colin Cooper in 2008.
Colin's death could have meant the end of Climax Blues Band but his desire was for the band to continue creating the fine blues blend that the band has been associated with since its formation, and that desire has been accepted with relish by the remaining members of the band.
1981 -90's - George Glover (keyboards), Lester Hunt (guitar), Roy Adams (drums) & Neil Simpson (bass) form the new band
George Glover has been at the keyboards in Climax since 1981, very much part of the nucleus of the band, Lester Hunt on guitar joined in 1986, drummer Roy Adams in 1987 and Neil Simpson on bass in the early 90s.
This solid unit has flown the Climax flag with tremendous passion and style. Now there is a spring in their step, taking the band forward and already pleasing crowds throughout Europe, the 'seamless' transition in carrying on creating the unique Climax sound is the result of hard work, disguised by a band having a great time making music….
2012 Vocalist Graham Dee & Sax Player Chris "Beebe" Aldridge Complete the New Line up
Graham Dee was recruited in 2012 to front the band. With his own distinctive style and a pedigree on the blues scene which included performing with The Blues Collective, The Red Lemons and joining ex-Feelgoods in The Lone Sharks as well as session vocals and voice coaching, at the same time Chris 'Beebe' Aldridge took on the saxophone duties with a fresh and exciting dynamic sound, both adding their own dimensions to the musicians that have carried the flag for Climax as a unit for over 20 years, in Les's case over 30 years, and George for nearly 40 years!
Security Alert - The Official Live Bootleg was recorded live at Leek Arts Festival and released in 2015 on ATA. The album was mixed by Roy Wood (Wizzard, ELO, solo).
Events
Performance Date
Performance Name
Performance Info
Performance Notes
Performance tickets
Backstage at The Green Hotel, Kinross
All Ages